SelfAwarePatterns
I loved this SMBC.  It echoes something I've observed before, that some physicists have disdain for philosophy, while often engaging in it themselves.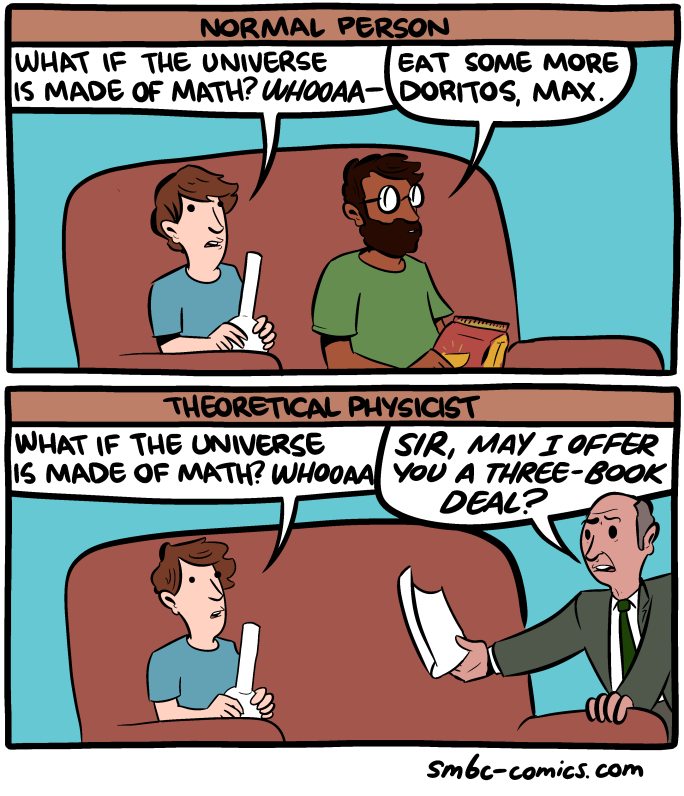 Hovertext: "Philosophy is dumb, unless it comes out of the mouth of a physicist."
Click through for full sized version and red button caption.
via Saturday Morning Breakfast Cereal.
I've discussed the question before on this blog on whether the universe is mathematics, mathematics is the universe, or some weird combination.  Personally, I've gradually become more convinced that the foundations of mathematics and logic are empirical, that they are our most fundamental theories about how the universe works.  This isn't completely intuitive because we are born with some logic and quantity cognitive pre-wiring, giving the illusion, perhaps, that it comes from somewhere else.
One consequence of seeing math and logic as theories, is that they are subject to revision, something many will find intolerable.  Still, arguably quantum…
View original post 6 more words